Catholic Movies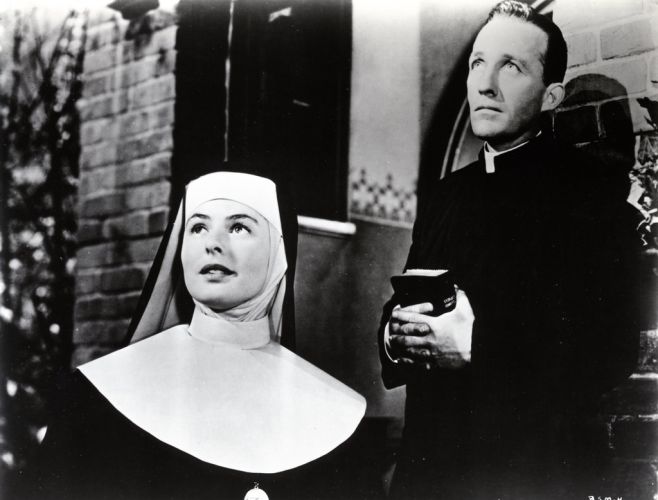 Below is a selection of movies with Catholic themes. To the right, I list a liturgical season or Feast Day that would be particularly appropriate for watching. I link to them at Amazon.com, but another option is to try your library system. If your library system is like mine, all of these movies are available (and you can even possibly search the library catalogue online, place holds on the movies you want, and have them delivered to your local library branch).





The Ten Commandments (1956)

Directed by Cecil B. DeMille Run
Time: 220 minutes

Starring: Charlton Heston, Yul Brynner, Anne Baxter, and Edward G. Robinson.

Moses leads the Israelite slaves from the tyranny of the Egyptian pharaoh and into the desert where he is given the Ten Words by God. Once the pharaoh's chief architect, Moses receives the attentions of the Queen until he rebels and is cast into exile. It looks very "1950s" and "epic," but it's good to watch (listen for how Anne Baxter says "Mooooses" -- great stuff.)

Lent

Jesus of Nazareth (1977)

Directed by Franco Zeffirelli
Run Time: 371 minutes

Starring: Robert Powell (as Jesus Christ), Anne Bancroft, Ernest Borgnine, Claudia Cardinale, James Farentino, James Earl Jones, Stacy Keach, Tony Lo Bianco, James Mason, Laurence Olivier, Donald Pleasence, Christopher Plummer, Anthony Quinn, and more.

This is a well-done film of the life of Christ with a few points some Catholics might quibble with, and a few points all Catholics will quibble with.

Easter

The Passion of The Christ (2004)

Directed by Mel Gibson
Run Time: 126 minutes

Starring: James Caviezel (as Jesus Christ), Maia Morgenstern (as Mary), Monica Bellucci (as Mary Magdalene), Claudia Gerini

Filmed in Matera, Basilicata, Italy and released on Ash Wednesday of 2004, it is the story of the last 12 hours of Christ's Passion. Both Mel Gibson and James Caviezel, the man who plays Jesus, are devout Catholics (Mr. Gibson being a very traditional Catholic) who were devoted to making the film as accurate as possible, going so far as to film the movie in Aramaic, Latin, and Hebrew. I cannot recommend this movie highly enough! It is less "a movie" than a religious experience. Brilliant!

Lent, especially Passiontide and, more specifically, Good Friday

Spartacus (1960)

Directed by Stanely Kubrick
Run Time: 184 minutes

Starring: Kirk Douglas, Laurence Olivier , Jean Simmons, Charles Laughton, Peter Ustinov

Though not particularly a "Catholic movie," I put this film here because it gives one an idea of the situation in Rome around the time of Christ. Plot: The rebellious Thracian Spartacus, born and raised a slave, is sold to Gladiator trainer Batiatus. After weeks of being trained to kill for the arena, Spartacus turns on his owners and leads the other slaves in rebellion.

Time After Pentecost

Quo Vadis? (1951)

Directed by Mervyn LeRoy
Run Time: 171 minutes

Starring: Robert Taylor, Deborah Kerr, Peter Ustinov

Returning to Rome after 3 years in the field, General Marcus Vinicius meets Lygia and falls in love with her. She is a Christian and doesn't want to have anything to do with a warrior. Though she grew up Roman, the adopted daughter of a retired general, Lygia is technically a hostage of Rome. Marcus gets Emperor Nero to give her to him for services rendered. Lygia resents this, but somehow falls in love with Marcus anyway. Meanwhile Nero's atrocities get more outrageous. When he burns Rome and blames the Christians, Marcus goes off to save Lygia and her family. Nero captures them, and captures other Christians to kill them, but Marcus, Lygia, and Christianity prevail in the end.

Time After Pentecost

Becket (1964)

Directed by Peter Glenville
Run Time: 148 minutes

Starring: Richard Burton, Peter O'Toole, John Gielgud

The story of St. Thomas a Becket, made Archbishop of Canterbury by King Henry II who made him so for political purposes -- but who came to regret it after St. Thomas had a true conversion and came to take his new "job" very seriously, to the point of martyrdom. (Historical innacuracy: Thomas a Becket was Norman, not Saxon)

Time After Pentecost & the Feast of St. Thomas (December 29)

Joan of Arc (1948)

Directed by Victor Fleming
Run Time: 145 minutes

Starring: Ingrid Bergman, José Ferrer, Francis L. Sullivan

What can I say? It's the beautiful Ingrid Bergman playing St. Joan of Arc in a way that modern portrayals of the Saint don't: without the "Joan was a lesbian feminist who wasn't as Catholic as Catholics make her out to be" overtones.

Time After Pentecost & the Feast of St. Joan (May 30)

The Passion of Joan of Arc (1928)
Directed by Carl Theodor Dreyer
Run Time: 114 minutes

Starring: Maria Falconetti, Eugene Silvain, André Berley, Maurice Schutz

All reviews I've ever read about this silent film describe it as a veritable masterpiece of film-making -- a film that is shown repeatedly in film schools and is said to be the apotheosis of visual excellence in film-making. The actress's performance has been described by Pauline Kael as the best performance ever captured on film. But it is a silent movie, so may not appeal to most people who aren't "film buffs."

Time After Pentecost & the Feast of St. Joan (May 30)

A Man for All Seasons (1966)

Directed by Fred Zinnemann
Run Time: 120 minutes

Starring: Paul Scofield, Wendy Hiller, Leo McKern, Robert Shaw, Orson Welles, Susannah York, Nigel Davenport, John Hurt

The story of St. Thomas More, an attorney during the time of Protestant "Reformation" in England, who suffered martyrdom by beheading rather than capitulate to Henry VIII's idea of religion. Winner of 6 Academy Awards for Best Picture, Best Director, Best Actor (Scofield), Cinematography, Screenplay, and Costume.

Time After Pentecost & the Feast of St. Thomas (June 22)

The Song of Bernadette (1943)

Directed by Henry King
Run Time: 156 minutes

Starring: Jennifer Jones, William Eythe, Charles Bickford, Vincent Price

The story of St. Bernadette Soubirous, who had the vision of Our Lady at Lourdes and whose body still lies incorrupt at her convent at Nevers, France. This movie won Academy Awards for Best Actress (Jennifer Jones), Cinematography, Art Direction, and Music, and won nominations for Best Supporting Actor and Actress, Best Director, Best Picture, Editing, Screenplay, and Sound Recording.

Time After Pentecost & the Feast of the Apparition at Lourdes (February 11) and the Feast of St. Bernadette (April 16)

Thérèse (1986)

Directed by Alain Cavalier
Run Time: 94 minutes

Starring: Catherine Mouchet

This French movie (English subtitles) is a very strange and haunting one. It will not please the "I need action and explosions" types (they will loathe it), but for those who are able to be calm, meditative, and appreciative of visual beauty, this one is most definitely for you. It is a visual poem in shades of blue and white, and the way the camera treats faces in this movie is something to behold. What I appreciate about this film is its capturing of the stillness of a convent's interior and how that makes one appreciate the little things -- the rustling of freshly washed white linen, sound of bare feet on cold stone floors... If you "get" what I am saying, buy or rent this movie. (Warning: after Thérèse becomes quite ill and confined to bed, don't eat anything while watching if you have a queasy stomach. One little quickie scene that involves a bizarre form of mortification/relic veneration might bother you.)

Time After Pentecost & the Feast of St. Thérèse (October 3)


DVD

Into Great Silence (2007)

Directed by Philip Groning
Run Time: 162 minutes

Starring: Real Carthusians.

This is a documentary that takes you inside the Grande Chartreuse in the French Alps. From Amazon: "In 1984, German filmmaker Philip Gröning wrote to the Carthusian order for permission to make a documentary about them. They said they would get back to him. Sixteen years later, they were ready. Gröning, sans crew or artificial lighting, lived in the monks quarters for six months filming their daily prayers, tasks, rituals and rare outdoor excursions. This transcendent, closely observed film seeks to embody a monastery, rather than simply depict one it has no score, no voiceover and no archival footage. What remains is stunningly elemental: time, space and light. One of the most mesmerizing and poetic chronicles of spirituality ever created, INTO GREAT SILENCE dissolves the border between screen and audience with a total immersion into the hush of monastic life. More meditation than documentary, it s a rare, transformative experience for all."

Lent and Time After Pentecost

The Miracle of Our Lady of Fatima (1952)

Directed by: John Brahm
Run Time: 102 min.

Starring: Gilbert Roland, Angela Clarke, Frank Silvera Richard Hale. Score by Max Steiner.

The story, beautifully filmed in Technicolor, of the greatest miracle of the Church Age, witnessed by thousands: the miracle of Our Lady appearing to Lucia dos Santos and her cousins Francisco and Jacinta.

Time after Pentecost & the Feast of Our Lady of the Most Holy Rosary (October 7)

The Exorcist (1973)

Directed by William Friedkin
Run Time: 122 minutes

Starring Linda Blair, Ellen Burstyn, Max von Sydow, Jason Miller

This is the most terrifying movie ever made. It's about demonic possession (based on a true case of the possession of a young boy) and has been described by real exorcists as completely realistic (except for the head-spinning). This movie is shocking and horrifying and, because of its subject matter, contains extreme vulgarity and blasphemy (some quite explicit and sickening). Therefore, discretion should be used! This movie's not for children! But if you want to see what possession looks like, this movie might be for you... Winner of 2 Oscars (Best Screenplay and Best Sound), nominated for 8 others, including Best Picture, Best Director, Best Lead Actor and Actress, Best Supporting Actress, Best Art Direction).

All Hallow's Eve

The Exorcism of Emily Rose (2005)

Directed by Scott Derrickson
Run Time: 119 minutes

Starring: Laura Linney, Tom Wilkinson, Campbell Scott, Jennifer Carpenter

The suspenseful story of a real-life exorcism and, mostly, the court room drama that ensued after the possessed girl died while under a priest's care. Much less of a "shocker" than "The Exorcist," this movie pits the secular world against the religious world in a thought-provoking and respectful way. Highly recommended, even by exorcists and priests such as Fr. Brian W. Harrison, O.S., who wrote at Seattle Catholic

"The Exorcism of Emily Rose" gets it right. Scarily, yes, but at the same time beautifully, powerfully — inspiringly. This one is the real thing, folks. (I speak as a priest who has had direct experience with real-life exorcisms: in Rome, with Fr. Gabriel Amorth, the Pope's leading exorcist and author of several books on the subject.)

By the way, the real life girl about whom this movie centers was named Anneliese Michel (sometimes her first name is spelled Annelise), and she died in 1976. May she rest in peace.

All Hallow's Eve

Films with a Catholic Sense of the World

Meet John Doe (1941)

Directed by Frank Capra
Run Time: 135 minutes

Starring: Gary Cooper, Barbara Stanwyck, Edward Arnold, Walter Brennan

Capra directed this, and the great Barbara Stanwyck plays in it. That's enough there for me to like this movie, but what really gets me is the ending. The plot: Stanwyck is a reporter who prints a fake letter from a "John Doe" who threatens suicide over the social ills of the day. That sells newspapers, so the scheme is continued with the newspaper's hiring Gary Cooper to play this suicidal "John Doe." What happens? You'll see and will love it. And if the last few lines don't make you cry, fuhgetaboutit! This is a film more for adults than children.

Christmas

It's a Wonderful Life (1946)

Directed by Frank Capra
Run Time: 130 minutes

Starring: James Stewart, Donna Reed, Lionel Barrymore

If you don't know this movie by the wonderful (and Catholic! and Italian!) Frank Capra, you've been living on Mars. This is the American Christmas movie, and for good reason! I don't care what the cynical, intellectual elites say, I love "Capracorn"! Just forget about the bad angelology (angels are not those who've died, of course) and go with the story.

Christmas


DVD

I Confess (1953)

Directed by Alfred Hitchcock
Run Time: 95 minutes

Starring: Montgomery Clift, Anne Baxter, Karl Malden

Not one of the great (and Catholic!) Hitchcock's best, but a fine film that plays with the ideas of murder, falsely accused innocent men, and the sacred seal of the confessional. This will bring a tear to your eye as you see how Hollywood used to treat the Catholic Church compared with the way things are now, when every priest is depicted as a radical or a troubled, drug-addicted or alcoholic, money-grubbing, fornicator or pedophile. So sad.

Pssst... If you want to know where Hitchcock's cameo is before seeing it, highlight the area between the brackets with your mouse [during the opening credits, he is crossing a staircase. According to a site visitor, Hitchcock is also the first man seen leaving the Church as the Mass ends.]


Angels with Dirty Faces (1938)

Directed by Michael Curtiz
Run Time: 97 minutes

Starring James Cagney, Pat O'Brien, Humphrey Bogart, the Dead End Kids

Rocky Sullivan and Jerry Connolly were tough kids who grew up together in the toughest part of New York --- Hell's Kitchen. Early on, Rocky (the great -- and Catholic! -- James Cagney) gets sent to reform school, where he learns how to be a first class criminal. Jerry, who had escaped from the law, goes straight and becomes a priest. As adults, they reunite in the old neighborhood: Jerry works with the kids who could end up on either side of the law. Rocky has returned looking for a safe place to stay 'til he can get back into his old racketeering organization -- something that his old partner isn't anxious to have happen. This great oldie is filled with that "I'm gonna get you, see" dialogue delivered in that over the top Brooklyn accent that makes old gangster movies so memorable. The final scene is a film classic, a must-see, and, as in all the old movies, evil gets its reward.


The Dead (1987)

Directed by John Huston
Run Time: 83 minutes

Starring Anjelica Huston, Donal McCann, Dan O'Herlihy, Donal Donnelly

This film (John Huston's last) is a very slow-paced character study based on James Joyce's "The Dead." To watch this movie is to be a fly on the wall at a very mellow, pleasant and charming Twelfthnight dinner party in turn of the century Ireland -- then to leave it and experience a haunting and powerful meditation on death. This one's for poets...

Lent

On the Waterfront (1954)

Directed by Elia Kazan
Run Time: 108 minutes

Starring Marlon Brando, Eva Marie Saint, Karl Malden, and Rod Steiger

The young and so very beautiful Marlon Brando takes on corrupt union bosses -- including his own brother. Karl Malden plays the brave, heroic priest who nudges at his conscience, encouraging him to do the right thing, even at the cost of great suffering. This classic won 8 Oscars, including Best Picture, Best Director, Best Cinematography, Best Actor (Brando), and Best Actress (Eva Marie Saint) -- and has the immortal lines, "I coulda had class. I coulda been a contender. I coulda been somebody, instead of a bum, which is what I am."



DVD

Babette's Feast (1987)

Directed by Gabriel Axel
Run Time 102 minutes

Starring Stéphane Audran, Birgitte Federspiel, Bodil Kjer, Jarl Kulle, Jean-Philippe Lafont

A sumptuous, visually rich movie that is, on the surface, about a French Catholic woman who flees to Denmark after her husband and son were killed. There, she works as a domestic for two aging Protestant sisters and ends up winning the lottery. Then, after fourteen years of cooking Danish foods in a Puritan style as the sisters instructed, she uses her winnings and skills to prepare a French feast for twelve (undoubtedly not a coincidental number) -- a meal that changes their lives.

On a deeper level, the movie is about everything from sacrifice, the roads not taken, the mind-body connection, unrequited and uncosummated love, the contrast between the Protestant and Catholic views of the temporal world, and, most of all, grace, faith and hope. It is beautiful to watch, with lots of blues, cold seas, white walls, interesting faces, and extravagant foods. I highly recommend this movie!



Bella (2008)



Directed by Alejandro Monteverde
Run time: 91 minutes

Starring: Eduardo Verástegui, Tammy Blanchard, Manny Perez, Ali Landry, Angélica Aragón

I haven't seen this one yet, at least as of this writing, but I've been told it

needs

to be on this list. Here's the review from Amazon:



Life is a complicated journey in which right and wrong are sometimes indistinct and where the things that really matter are often unclear. Bella is a powerful, leisurely-paced film in which Jose (Eduardo Verastegui) and Nina (Tammy Blanchard) struggle to do what's right while seeking meaning in their lives. A quiet, brooding man with a dark past, Jose works as a chef in his brother Manny's (Manny Perez) restaurant where he mostly keeps to himself until young waitress Nina is fired. Touched by Manny's unfair treatment of Nina, Jose impulsively leaves work to follow Nina and spends a day with her where he discovers that she is pregnant and alone. The two become incredibly close in the space of a day, sharing their pasts, feelings, and fears, and a lasting friendship is born. As Nina struggles with her pregnancy options and Jose comes to terms with a horrific incident from his past, the pair's newfound friendship aids in growth and healing. In the end, Jose and Nina's lives become permanently intertwined in a most beautiful and unexpected way. Bella is a moving, introspective film that will inspire serious personal reflection.






Marty (1955)



Directed by Delbert Mann
Run time: 90 minutes

Starring: Ernest Borgnine; Betsy Blair; Esther Miniciotti

Marty's a nice-a Italian American boy -- but one who can't get a girl, no matter how often he's asked when he's going to get married, or how often he's told he should be ashamed for not having a wife. And no matter how badly he'd love to find the right girl for him and build a family. Will he find Miss Right? Watch and find out!

How I love this movie. If Ernest Borgnine doesn't break your heart, I don't want to know you.



DVD


Apocalypto (2006)



Directed by Mel Gibson
Run time: 138 minutes

Starring: Rudy Youngblood, Dalia Hernández, Jonathan Brewer

This isn't strictly a "movie with a Catholic sense of the world" (though it is in the sense that the very end of the final scene promises Christian hope), but it's a movie that is important when considering what it was the Spanish encountered when they sailed to Central and South America, and how important Our Lady of Guadalupe is. This movie is very intense, violent, visually stunning, and exciting. Like Mr. Gibson's "The Passion of the Christ," it uses subtitles, but, I assure you, it takes absolutely nothing from the viewing experience. Next time someone goes on about "the evil Spanish vs. the peaceful natives," show them this film. Perfection, but not for small kids.